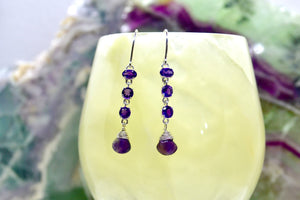 "Triple Amethyst Cascade" Earrings
Indulge in the mesmerizing allure of the "Triple Amethyst Cascade" earrings, a true embodiment of elegance and sophistication. Crafted with sterling silver, these exquisite earrings feature a trio of faceted amethyst gemstones that shimmer with a captivating purple hue. Adding an extra touch of allure, a stunning amethyst teardrop suspends elegantly at the bottom, radiating a sense of enchantment. The combination of the vibrant amethysts and the elegant teardrop design creates a harmonious blend of beauty and grace. These earrings are perfect for those seeking a statement piece that effortlessly transitions from day to night, adding a touch of allure and sophistication to any ensemble.
Specifications:

-.925 sterling silver ear wires and setting
-Faceted amethyst x6
-Faceted amethyst teardrops wrapped in .925 sterling silver x2
-Comes with rubber earring backs
Please read all FAQs before purchasing.